23 janvier 2012
1
23
/

01
/

janvier
/

2012
15:34
Nowadays, Wine bars in Paris (bar à vin in French) are very common and trendy, nevertheless some places can be disappointing (bad wine, no ambiance etc.). We have shortlisted for you our 3 preferred wine bars in Paris: 36 Corneil, L'Ivress and L'Ebéniste du vin. These 3 good places should please you.
First wine bar: the 36 Corneil in the 9th district (arrondissement) of Paris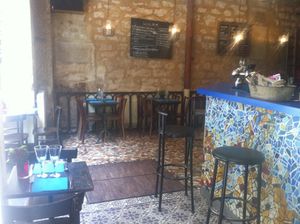 This wine bar (bar à vin) is very nice and located between 2 subway stations: Cadet (line 7) and Anvers (line 2). Atmosphere is great in this place which is "simple" and cozy thanks to warm settings and notably a nice stone wall and mosaic tiles (like the typical Parisian bars in the beginning of 20th century).
Hence, 36 Corneil is an authentic Parisian wine bar with "nostalgic settings and without frills! Served food is mainly « French tapas » that is to say plates of French charcuterie and cheeses and some are more "original" (escargot etc.), food is simple but very good.
The Wine is also nice and comes mainly from the various French winegrowing regions (White and red Sancerre, Beaujolais, Loire and Bordeaux off course). Moreover, this place offers a good value for money (reasonable prices) and with the light and nice background music this place is perfect to put the world to rights with friends over a glass of wine.
Address Le 36 Corneil: 36 de la rue Rochechouart 75009 Paris (copy paste address in Google map)
Phone number: +331 48 78 42 55
Metro / subway: Anvers (line 2) or Cadet (line 7)
Information: the name of this wine bar is not written on the building so it's the bar opposite (across the street) to the wine merchant named Nicolas.

L'Ivress - 5 rue poissonnière 2nd district (arrondissement) of Paris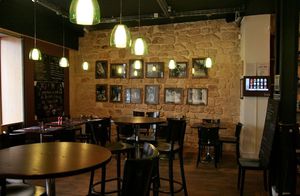 L'Ivress: this place is a little beat more modern and trendy than the 36 Corneil but also very convivial thanks to warm colors and stone walls. This wine bar is ideal for those seeking a cozy place to share a great bottle of wine over plates of mixed meats, charcuterie and cheeses.
Furthermore, welcome is warm as the bottles of wine. Prices are reasonable and you can also take away bottles of wine you appreciated.Wa advice to book beacause the number of clients is limited.

Address L'Ivress: 5 rue poissonnière 75002 Paris
Phone number: +331 42 21 90 26
Metro / subway: Sentier (line 3)
Information: closed on Sunday

L'Ebéniste du Vin : a new wine bar in the 17th district (arrondissement) of Paris at the heart of Batignolles district


Open from 5 pm to 2 am, L'Ebéniste du Vin is one of our favorite places and clearly stands out from the others! Wood is very present (ébéniste means cabinetmaker) giving to the place a very convivial and war atmosphere. This wine bars offers a wide range of wines and a lots of "side dishes" like plates of charcuterie, chesses, mixed meats etc.
Moreover, this wine bar is also a wine merchant (store adjoining the bar). In the store you can buy and find wines you loved two minutes ago at the bar and take away them. Range of spirits is also good.

To be discovered as soon as possible! You should appreciate this bar and spend long hours chatting with your friends over a nice glass of red or white wine. Each month, this bar organize themed tasting workshop to discover new wines or spirits (wine from a specific region, Whiskey…).

Address L'Ebéniste du Vin: 72 rue Boursault 75017 Paris
Phone number: +331 42 28 80 43
Metro / subway: Rome (ligne 2)
Information: the store (wine merchant) is open from 11 am to 2 am