In Paris, quality of brunch offered by restaurant is very unequal and sometimes a restaurant can be disappointing: low value for money or bad quality foods…
In this mindset, we written this article "where to brunch in Paris?" to avoid a nasty surprise and we offer a top 4 of our preferred restaurant proposing great Sunday brunch, these places shouldn't disappoint you.
A good brunch place offering a good value for money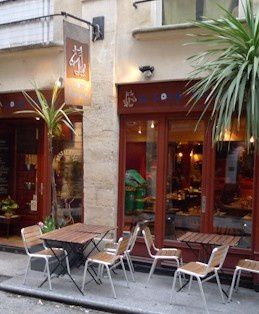 Le Loup Blanc is located in the 2nd arrondissement (district) of Paris and is a very "good deal". Indeed, the value for money of this restaurant is very interesting: for 22€ you will have a fresh orange juice, 1 homemade yogurt, a fresh fruit salad and off course French vienoiseries (croissants and pains au chocolat), slices of bread + jam and honey.
Our opinion on this Parisian brunch: we love this place first for its good value for money (22€ is a correct price in Paris for a Sunday brunch) the setting and atmosphere are also great.
Address Le Loup Blanc : 42 rue Tiquetonne 75002 Paris
Phone number: +331 40 13 08 36
This brunch is available only on Sunday from 11 am to 4 :30 pm.
A chic and smart place but at the end not so expensive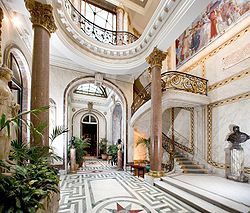 The Jacquemart-André museum is located in a private mansion owned in 19 century by a rich couple of French banker. The museum has also a café / tea house named "le café Jacquemart-André" serving a brunch each Sunday in the former dining room of the private house.
The brunch costs 26€ and for this price you enjoy your brunch under a beautiful ceiling painted by Tiepolo. The tea house offers also good French pastries.
The « café Jacquemart-André » has also a nice sundeck very popular during the summer time.
Our opinion on this brunch: the place is wonderful; this old private house is one of the most beautiful of Paris, very "raffiné". Atmosphere is quiet and a bit nostalgic. We advise to visit first the museum (painting in a fabulous place) and after to brunch.
Museum Jacquemart-André address: 158, boulevard Haussmann 75008 Paris
Phone number : +331 45 62 11 59
A more « upscale » brunch
The Nomads' is a café restaurant located place du marché Saint Honoré and offers a brunch at 32€: for this price you can have access to a wide "all you can eat" buffet lunch with refined dishes. The place is sympathetic and has a small sundeck.
Our opinion on the Nomad's: this restaurant is a good place for a brunch in Paris, the quality of the different dishes is good which is not common for an "all you can eat" buffet.
Brunch only on Sunday starting at 10 am. Unfortunately, no reservation.
Nomads' address :12-14, rue du Marché Saint-honoré 75001 Paris
Phone number : +331 42 60 47 21
A luxury brunch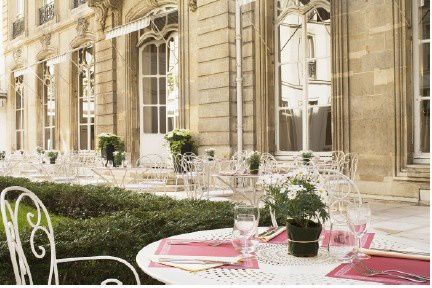 Saint James Albany hotel is located on the famous « Rivoli » street near the Louvre museum and the « Jardin des Tuileries ». The place offers a nice sundeck in the private hotel courtyard, high quality food, all you can eat buffet, a main course and off course café, tea and orange juice.
Our opinion on the Saint James Albany brunch: a magic place, the courtyard makes you believe that you are somewhere else however; you're just behind the very busy Rivoli street. Service is obviously great (4 stars hotel!) and food is very nice…
Booking a few days ahead of time is recommended in summer (to have a table on the nice sundeck).
Brunch is available only on Sunday from 12 to 15 pm.
Les Jardins du Saint James address: 6 rue du 29 Juillet 75001 Paris
Phone number: +331 44 58 43 44
We hope you will enjoy these addresses!